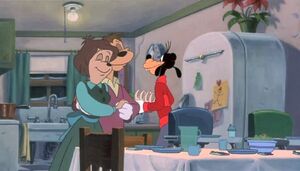 Julia Enderson "Mrs. Enderson"  is the wife to Mr. Enderson and the mother to the 6 Enderson kids. She was born on November 15, 1969 in Montgomery, Alabama. In 1988, Julia moved to Cleveland to attend College. There in 1990, she met Allen Enderson and in February 1994, they got married in Cleveland and almost immediately moved to Monroeville, PA in July 1994 due to Mr. Endersons job. They lived in Monroeville for almost three years, having their first child Greg Enderson born there at the local hospital.
Late 90s
Edit
In March of 1997, with Mr. Enderson and Little Greg, the Endersons moved to a more central location since Mr. Enderson worked in Downtown Pittsburgh as he had moved there in late 1996. They moved to a small neighborhood in the section of town named Ingram. When they moved there, Mrs. Enderson was already pregnant with a second child and in October of 1997, Sarah Enderson was born. After about a year of caring for Sarah and Greg, Mrs. Enderson got a job in December 1998 at a florist shop in the downtown area of Ingram but her job was soon halted just seven months later for the arrival of her third child, Little Nicci Enderson also known as "Nicholas" who was born on August 27, 1999.
Early 2000s and New City
Edit
By the turn of the 21st century, Mrs. Enderson and her family were a growing family with three kids and a wonderful husband carrying the family for the next couple of years. Mrs. Enderson began taking her eldest son, Greg to Preschool in the summer of 2000 and Sarah to a Mothers Day Out daycare so she could pursue her job as a florist by July of 2000. She had become very good at her job, becoming a Co-Manager of the prosperous store by mid 2001. By the fall of 2001, her son Greg was starting Kindergarten at Chartiers Elementary School. Her daughter Sarah had started Preschool and Nicholas starting Mothers Day out. But this new education came to a halt immediately since Mr. Enderson got a job transfer to Philadelphia in April 2002, and in May 2002, the family left for a new life in Philadelphia.