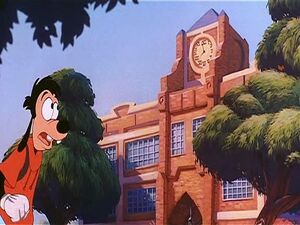 Spoonerville High School

Built

1922

Students Enrolled (2016-2017 School Year)

4,654

# of Teachers

212

Principal

Bennett Mazur (2003-Present)

Renovation Years

1957,1975,1996,2012

Football State Champ Years

1947,1965,1967,1968,1981, 1997,2006,2010,2013
Spoonerville High School is the first High School ever built in 
Spoonerville
. This High School is also the most eastern High School in Spoonerville. This was the first official High School built from 1920-1922 and had its first operational school year in August 1922. The School has been renovated on the inside multiple times, most recently in June 2009 but the outside still remains to its original look from the 1920s. This school was had replaced the 
Fairview Learning Center
 and relieved a few hundred students to transfer to this new school.
Spoonerville High School is one of 8 other High Schools in Spoonerville. This high school has a capacity of 5,455 students + 500 teachers. This high school was built with 3 floors, the first and second being the same size and the third is about a little less than half the size of the others. Spoonerville High School opened up on August 22, 1922 to almost 3,000 students and 215 teachers ranging from grades 9-12. The first 10 years were almost packed full to its maximum capacity with 5,364 students and about 460 teachers until Mason High School opened up in 1932 which helped out with evening out the students around Spoonerville. Spoonerville High School lead the city of Spoonerville with an excellent education system with State testing scores almost 4 points higher than the State average for over 50 years.
Athletics Program
Edit
Spoonerville High School started its Athletics program in 1925 when the Stadiums completed construction. The program consists of American Football, Soccer, Baseball and Cross Country teams. The Spoonerville Hawks Football team has been to Regional and State competitions numerous times and most recently made 2nd at State in 2012.